Remember we announced a trial to pay authors of popular PRs to Mudlet? Well, two weeks past 4.14, the polls have closed and the results are in:
(8 votes) dark theme toggle to preferences
(1 vote) option to show errors view from the toolbar
(1 vote) IDManager and named tempTimers/event handlers from script
(1 vote) create room at right-click position
(1 vote) only enable IRE driver GA bugfix for IRE games (unnecessary newlines with GA)
(1 vote) sync mpackage modules
(1 vote) only provide NAWS information from main console
Edru's dark theme clearly is our first winner 🥇 😃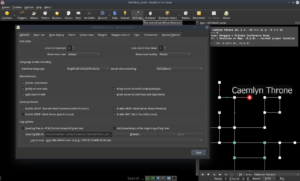 The rest of the votes are split evenly, so we used an online random number generator to figure out who should get the 2nd and 3rd prize.
2nd place went to Kebap 🥈 for his improvement to create a room exactly where you right-click on the mapper.
3rd place wento Edru's improvement to enable syncing of mpackage modules across profiles🥉! Congratulations to Edru & Kebap as the winners of this round.
Big thanks to atari2600tim, Damian Monogue, Kebap, Manuel Wegmann, Mike Conley, Nils Schimmelmann, Piotr, Slobodan Terzić, Stephen Lyons, Vadim Peretokin, and 噢哎哟喂 who contributed overall to make Mudlet 4.14 happen =)
Vadim.